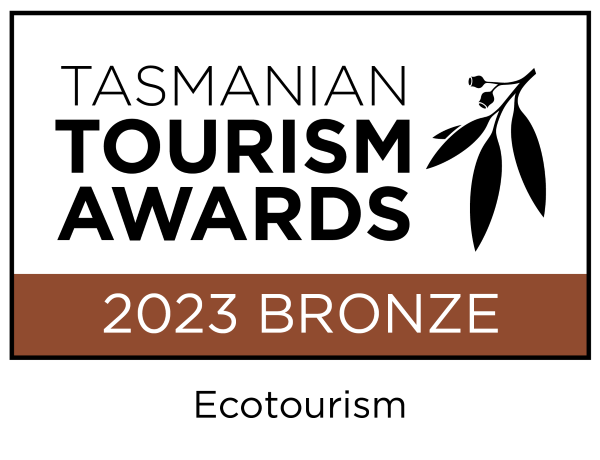 Join us on the takayna / Tarkine Explorer to experience the magic of 2 of the regions most unique wilderness locations, Tarkine Trails very own Tiger Ridge and the historic Corinna Wilderness Village
Our takayna Explorer walking tour enables you to be fully immersed with the ancient river systems, unique cool temperate rainforest and wild coastline of this region. This tour showcases the best of both inland and coastal takayna / Tarkine whilst focusing on a true connection and development of sense of place.
The tour commences with some full takayna / Tarkine immersion, based out of the comfort of our Tiger Ridge camp, deep in the hilly rainforest. Spend your evenings accompanied by views of the forested valley whilst indulging in some fine local produce; the perfect way to end the day of total forest immersion. We then relocate to the wilderness village of Corinna, where we have the opportunity to visit the amazing wild coastline, paddle the ruyinrim / Pieman river and walk through the diverse forests hugging the river systems of the southern takayna / Tarkine and weather dependent get up high for some 360 m0untain views. This is an unforgettable experience which will last a lifetime.
TIGER RIDGE CAMP
Tiger Ridge is unique and the perfect base camp for you to truly experience the wonder of the Tarkine Rainforest. Its design creates a balance between offering you some creature comforts whilst not removing you from the ability to immerse yourself in this rainforest home. We feel it is extremely important to the experience to be able to be a part of the landscape that you are visiting rather than detached inside built-up infrastructure. Tiger Ridge allows our guests to truly get back to nature and fully immersive themselves in the magical rainforest surrounds.
CORINNA WILDNERSS VILLAGE
Corinna Wilderness Village provides an escape from mass tourism, to one of the most remote and beautiful parts of the world. Corinna is an historic mining town turned wilderness retreat, sitting at the southern end of the Tarkine, the largest temperate rainforest in Australia
ITINERARY SUMMARY
Day 1 : Pick up Launceston, transfer to Tiger Ridge Camp | 5-10kms
*There is a pre-trip briefing this morning at the Aspire Adventure Equipment Gear Store 136 York Street, Launceston
Day 2 : Exploratory rainforest valley walk | 5-10kms
Day 3 : Tiger Ridge transfer to Corinna via Mt Donaldson hike | up to 15ms
Day 4 : Coastal Hike on the Tarkine Coast to Point Rupert | 14kms
Day 5 : Kayak the majestic rainforest clad Pieman and Savage Rivers, transfer from Corinna to Launceston| 10kms+paddle | 5km walk
WHAT'S INCLUDED
• 2 professional wilderness guides.
• 2 nights lodge/cabin style accommodation (twin
• share).
• 2 nights Exclusive camp accomodation (twin share
tents)
• 4 breakfasts, 5 lunches and 4 dinners.
• All delicious snacks on the trail.
• Return transport from Launceston.
• Pieman River boat transfers.
• Kayak hire.
• All national park fees.
• Emergency communications & group first aid kit.
• Alcohol is not included