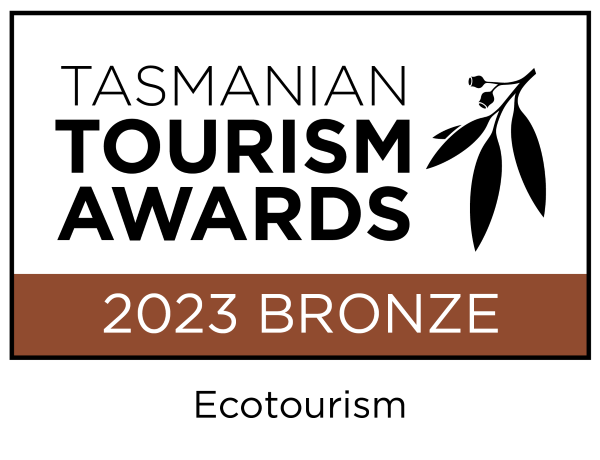 The Tarkine is a remote and secluded mystery awaiting your discovery. The Tarkine region is home to the Southern Hemisphere's largest cool temperate rainforest; whose biological evolution dates back millennia, providing us today with a unique richness in biodiversity, unseen in most parts of the world.
Take a step back in time and experience the raw beauty of the largest cool temperate rainforest in the southern hemisphere, the takayna/Tarkine. With World Heritage significance, this 65 million year old rainforest sits in the North-West region of Tasmania and is a hidden gem for tourists and locals alike. Come walk with us to experience this ancient rainforest, full of cathedral-like groves with mosses and fungi carpeting the forest floor, and discover why our guests have "life-altering" experiences in this "untouched paradise".
Spend your evenings accompanied by views of the forested valley whilst indulging in some fine local produce; the perfect way to end each day of total forest immersion. Designed with a broad range of fitness levels in mind, this four-day tour provides everyone with access to the stunning takayna/Tarkine wilderness while still maintaining a great level of comfort.
Tiger Ridge camp
Tiger Ridge is unique and the perfect base camp for you to truly experience the wonder of the Tarkine Rainforest. Its design creates a balance between offering you some creature comforts whilst not removing you from the ability to immerse yourself in this rainforest home. We feel it is extremely important to the experience to be able to be a part of the landscape that you are visiting rather than detached inside built-up infrastructure. Tiger Ridge allows our guests to truly get back to nature and fully immersive themselves in the magical rainforest surrounds.
Itinerary Summary
Day 1 : Pick up Launceston, transfer to Tiger Ridge Camp | 2kms
*There is a pre-trip briefing this morning at the Aspire Adventure Equipment Gear Store 136 York Street, Launceston
Day 2 : Exploratory rainforest valley walk | 5kms
Day 3 : Discover an ancient rainforest river system| 7km walk
Day 4 : Depart Tiger Ridge Camp, return transfer to Launceston via Waratah | 2kms
What's included
Exclusive accommodation and camp equipment at Tiger Ridge
3 breakfasts, 4 lunches and 3 dinners
All delicious snacks for on and off the trail
Professional guides with a passion for Tasmanian wilderness
Emergency satellite communication/navigation equipment
Wilderness first aid equipment, safety gear and supplies
Transport from Launceston and return
Alcohol is not included
Maximum 8 people
Notes to consider
Your 4 Day Tarkine Rainforest Experience is graded as an introductory/ moderate tour. We advise you to do as much training as you can before your tour. The more you train for the walk, the easier you will handle the terrain and the more you will enjoy this wonderful part of the world. It's also important to come along with an open mind ready for an awesome experience, whatever the weather. Please note that Tasmanian weather can be unpredictable; storms can arise very quickly and heavy rain and even snow can fall at any time of the year. It is very important that you bring the right gear for the conditions.
Note: This itinerary is subject to change with any change in Community regulations as well as Governmental changes and natural circumstances beyond our control. The Tarkine is a remote wilderness and therefore, access via remote roads is required and driving times might differ depending on local conditions.